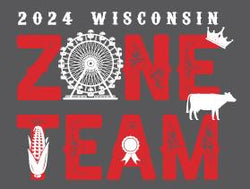 Team Wisconsin
Welcome to the exclusive team page for
Team Wisconsin
ANY ORDERS PLACED AFTER 7/30 WILL BE SHIPPED TO YOUR HOME AFTER THE MEET.

EXTRA SHIRTS AND CAPS WILL BE AVAILABLE FOR PURCHASE AT THE ZONE MEET.
Call us at 1-262-395-4547 or visit us at 2415 N 124th St Brookfield, WI 53005 during our store hours:
M-W 10:30-5:30, Th 12-7, Fri-Sat 10:30-4 to get your discounted tech suit!
Please contact kelly@elsmoreswim.com with questions!