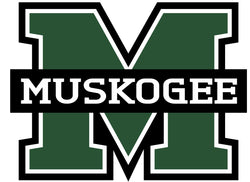 Muskogee High School
Please contact your team rep with questions: Tricia at email tricia@elsmoreswim.com or 515-223-4100.

Team discounts have been applied to qualified training equipment and suits.
 Approximately a 4-week delivery for custom/personalized orders.
All orders will ship to your home unless otherwise noted.
FREE SHIPPING ON ORDERS $69+.


ALL CUSTOM PRODUCTS ARE FINAL SALE. Please call for assistance on sizing.
See size guidelines below.