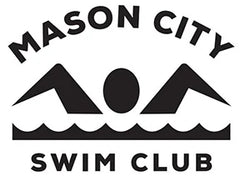 Mason City Swim Club
FALL CAP DEADLINE - SEPTEMBER 30th
1st CUSTOM APPAREL ORDERING WINDOW > SEPTEMBER 6 - 30th
2nd CUSTOM APPAREL ORDERING WINDOW >  NOVEMBER 1 - 20th
WHEN ONLY PURCHASING PERSONALIZED CAPS, please select "PICK UP AT STORE". This will avoid shipping charges. ALL SWIM CAPS will ship to MATT MURRAY for distribution.
Please contact your team rep with questions.
Email tricia@elsmoreswim.com or call 515-223-4100.


Team discounts have been applied to qualified training equipment and team products. 
Approximately a 4-week delivery for custom/personalized orders.

FREE SHIPPING ON ORDERS $69+.


Basic competitive suit size guidelines below >>