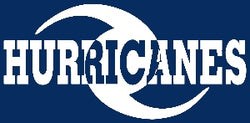 Hurricanes Swim Team
This is the official Elsmore Team Page for the Hurricanes Swim Team. 
Support your team and get all your gear here!  Elsmore gives back to your team with a portion of the proceeds from ALL purchases made through this link! 
You also get FREE Shipping on all orders over $69.
Required Hurricanes Equipment: 
ALL – Team competition suit with logo (Speedo Endurance - shown below) 
Whirlwinds - Fins
Breezes & Blasts – Fins
Gusts & Gales – Fins, Snorkel
Cyclones – Fins, Snorkel, Paddles
Senior Bronze – Fins, Snorkel, Paddles
Senior Silver/Gold - Fins, Snorkel, Paddles, Board, Buoy, Tempo Trainer (optional)
Recommended Hurricanes Equipment: 
Goggles (at least two pairs)
Practice suits
Mesh bag
Please note that custom items (anything with a team logo) are non-refundable nor able to be exchanged*
Please allow 4 weeks for custom apparel orders, 7-10 days for custom suits