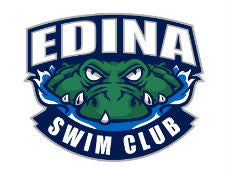 Edina Swim Club
This is the official Elsmore Team Page for Edina Gators Swim Club.  Support your team and get all your gear here! 
Elsmore gives back to your team with a portion of the proceeds from ALL purchases made through this link! 
You also get FREE Shipping on all orders over $69.
All swimmers should bring tennis shoes and a water bottle to all practices
Gator 1A/Gator 1B - Mesh bag, kick board, Speedo Trialon fins OR Tritan fins
Gator 2/Gator 2A - Mesh bag, kick board, Arena JR fins, pull buoy, snorkel
Gator 3 - Mesh bag, water bottle, FINIS Alignment kick board, Arena JR Fins, Finis Agility Paddles, pull buoy, snorkel
Age Group Prep A/Age Group Prep B - Mesh bag, kick board, Speedo Trialon fins OR Tritan fins
Age Group Bronze - Mesh bag, kick board, Arena Powerfin Pro/Arena JR fins, Finis Agility Paddles, pull buoy, snorkel
Age Group Silver - Mesh bag, water bottle, FINIS Alignment kick board, Arena PowerFin Pro/Arena JR fins, Finis Agility Paddles, pull buoy, snorkel
Age Group Gold - Mesh bag, water bottle, FINIS Alignment kickboard, Arena PowerFin Pro/Arena JR fins, FINIS Tempo Trainer Pro, stroke maker paddles, pull buoy, snorkel
Sr. Prep - Mesh bag, kick board, Arena Powerfin Pro fins, stroke maker paddles, pull buoy, snorkel
Senior Bronze, Sr. Silver, Sr. Gold & National - Mesh bag, kick board, Arena Power fins, stroke maker paddles, pull buoy, snorkel, 8" StretchCordz Drag Belt/Tow Teather
Masters - Mesh bag, kick board, fins, paddles, pull buoy, snorkel
Please note that custom items (anything with a team logo) are non-refundable nor able to be exchanged
Please allow up to 4 weeks for custom orders