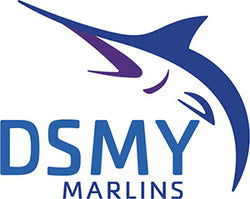 DSMY Marlins
FALL CAP + T-SHIRT DEADLINE - SEPTEMBER 25
 SEASONAL T-SHIRTS 

ONLY

WILL BE DELIVERED TO THE BRANCH LOCATION, YOU DESIGNATE, ON A SELECTED DATE (TBD).

THIS SINGLE ITEM

WILL NOT BE SHIPPED TO YOUR HOME and OTHER ITEMS ON YOUR ORDER WILL NOT BE DELIVERED TO THE POOL. 
CAPS > Select 'Pick up in Store-Des Moines' if you want to avoid shipping charges.
Caps will not be delivered to Y locations.
1st CUSTOM APPAREL ORDERING WINDOW > SEPTEMBER 6 - 30th
2nd CUSTOM APPAREL ORDERING WINDOW >  NOVEMBER 1 - 19th
CAPS + WARMUPS + CUSTOM APPAREL must be purchased online.

Please expect a 3-4 week delivery on custom products.
ALL CUSTOM PRODUCTS ARE FINAL SALE.
SELECT "PICK UP AT STORE" TO AVOID SHIPPING FEES.
PLEASE VISIT THE STORE FOR SUIT SIZING. CUSTOM SUITS CAN BE PURCHASED IN STORE. 
Any questions, please contact us at 515-223-4100 or email tricia@elsmoreswim.com.
STORE HOURS:
mon / wed:  9a - 6p, tues / thurs:  9a - 5p, fri / sat:  10a - 4p
3029 100th Street, Urbandale  

*FREE SHIPPING ON ORDERS OF $69 OR MORE
SIZING GUIDELINES: