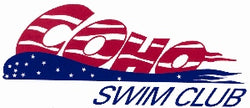 COHO Swim Club
Welcome to the Exclusive Team Page for
COHO Swim Team
Please use FIRST or LAST NAME or FIRST INITIAL & LAST NAME for caps. 
Ordering period for personalized caps will close September 25th at 11:59pm
Caps will ship to home approximately 4 weeks after the close date. 
All purchases made through the Team Page earn a 5% credit for the club! 
Free shipping on orders over $69!
Team & Group Requirements
10&U White,10&U Blue,11&O White: Team Suit
10&U Red,11&O Blue: Team suit, fins, snorkel, paddles, pull buoy, mesh bag
11&O Red: Team suit, snorkel, fins, paddles, Tempo Trainer Pro, pull buoy, mesh bag
SR Silver & Gold:  Team suit, snorkel, Tempo Trainer Pro, pull buoy, mesh bag 
Contact Kelly@elsmoreswim.com with any questions.
In an effort to maximize efficiencies within our Custom House and process your order faster, you will only be able to order custom apparel between the following dates: 
September 1st - September 30th
November 1st - November 19th
January 1st - July 15th
Suits & equipment will continue to process as normal.