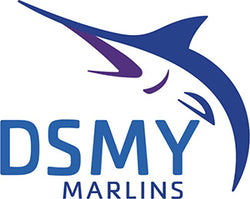 DSMY Marlins Travel Team
FALL APPAREL DEADLINE - SEPTEMBER 30
SEASONAL T-SHIRTS ONLY WILL BE DELIVERED TO THE BRANCH LOCATION, YOU DESIGNATE, ON A SELECTED DATE (TBD). THIS SINGLE ITEM WILL NOT BE SHIPPED TO YOUR HOME and OTHER ITEMS ON YOUR ORDER WILL NOT BE DELIVERED TO THE POOL.
CAPS > Select 'Pick up in Store-Des Moines' if you want to avoid shipping charges. Caps will not be delivered to Y locations.
1st CUSTOM APPAREL ORDERING WINDOW > SEPTEMBER 6 - 30th
2nd CUSTOM APPAREL ORDERING WINDOW >  NOVEMBER 1 - 19th


Please visit the store for proper suit sizing. Suits CAN be purchased in the Urbandale store. 
CAPS + WARMUPS + CUSTOM APPAREL must be purchased online.
SELECT "PICK UP AT STORE" TO AVOID SHIPPING FEES.
Any questions, please contact us at 515-223-4100 or email tricia@elsmoreswim.com.
STORE HOURS:
monday / wednesday:  9a - 6p, tuesday / thursday:  9a - 5p, friday / sat:  10a - 4p
3029 100th Street, Urbandale  |  same strip mall as Amish Furn House, Panchero's, etc...